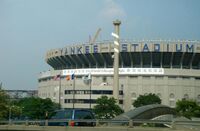 Yankee Stadium is a baseball stadium in New York City; it was the home ballpark of the New York Yankees from 1923 to 1973 and from 1976 to 2008.
History
In "The Opposite," George Costanza got a job at Yankee Stadium after deciding to do the opposite of what he usually did, telling off George Steinbrenner, who ordered that George be hired on the spot. George was assigned the offices of the stadium, where he worked as assistant to the traveling secretary, under the direction of Mr. Wilhelm. 
George had ideas that seemed to pay off, such as causing the Yankees to have a winning streak after issuing them cotton uniforms (they complained their polyester baseball uniforms were stuffy). However, in typical George fashion, something thwarts him, in this case a game that gets attacked by a rain squall causes the uniforms to shrink.
Known workers
Former workers
Ad blocker interference detected!
Wikia is a free-to-use site that makes money from advertising. We have a modified experience for viewers using ad blockers

Wikia is not accessible if you've made further modifications. Remove the custom ad blocker rule(s) and the page will load as expected.