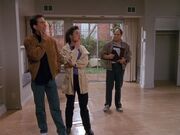 The West 83rd Street Apartment was an apartment that George Costanza was trying to sell to Jerry Seinfeld in "The Robbery". Jerry intended to purchase it but learned George wanted it. George offers the place to a waitress at Monk's Cafe in which she accepts. Jerry, George and Elaine Benes later attended the housewarming party still in the interest of a new apartment.
Features
Fireplace
Garden
Great light
Walk-in closet
Ad blocker interference detected!
Wikia is a free-to-use site that makes money from advertising. We have a modified experience for viewers using ad blockers

Wikia is not accessible if you've made further modifications. Remove the custom ad blocker rule(s) and the page will load as expected.