Vivian is a minor character on the television show Seinfeld.
Background
Vivian is a friend of Elaine Benes. She only appeared once, in "The Blood". She instantly became attracted to George Costanza because they shared an intense liking for cured meats and watching television during intercourse. Vivian has a son, Jimmy.
Appearances
Season Nine
Notes
Kellie Waymire, the actress for Vivian sadly passed away on November 13, 2003. Waymire, like Vivian, also suffered from health problems.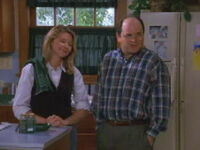 Ad blocker interference detected!
Wikia is a free-to-use site that makes money from advertising. We have a modified experience for viewers using ad blockers

Wikia is not accessible if you've made further modifications. Remove the custom ad blocker rule(s) and the page will load as expected.