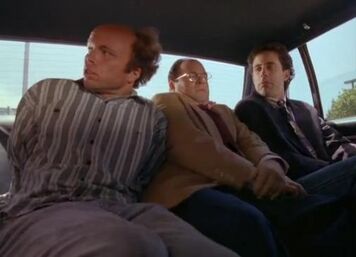 Tobias Lehigh Nagy
is a serial killer who has been terrorizing Los Angeles. The media has dubbed him The Smog Strangler. He appears in "
The Trip: Part 2
" and is played by
Clint Howard.
The Los Angeles Police Department had Tobias in custody at one point, but he was able to escape when
George Costanza
left the door open on the police car in which he was being held.
One of Nagy's victims was Cosmo Kramer's new girlfriend Chelsea. Kramer is arrested for The Smog Strangler's crimes after Lt. Martel's botched investigation, but gets exonerated when Nagy kills again while he is in police custody.
Ad blocker interference detected!
Wikia is a free-to-use site that makes money from advertising. We have a modified experience for viewers using ad blockers

Wikia is not accessible if you've made further modifications. Remove the custom ad blocker rule(s) and the page will load as expected.