The Shower Head
Comments

2
740pages on
this wiki
"
The Shower Head
"
is the 16th episode of the
7th season
of
Seinfeld
and the 126th overall. It premiered on Feburary 15, 1996.
The landlord of the apartment installs new shower heads in everyone's bathrooms, but these shower heads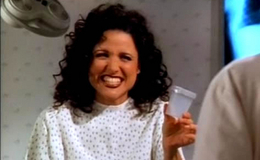 make everyone's hair flat and lifeless.
Jerry
,
Kramer
, and
Newman
plan to stop this. Meanwhile,
Elaine
takes a drug test on her upcoming trip to Africa and fails it, making
Peterman
fire her, although Elaine has never taken any drugs in her life, so she gets a second chance a few days later. Also,
Uncle Leo
breaks up with his girlfriend from Florida after she laughed at a mean joke about Leo told by Jerry on The Tonight Show, so now Jerry's parents want to move to Florida in Del Boca Vista, a condominium that used to not have any more houses to rent, but now since Leo left, they want to move in his old house. Kramer goes to Elaine's work to ask her if he can use her shower, as he needs "the good stuff", refering to a regular shower head. However, Peterman overhears Kramer, thinking he's a drug dealer, and beats him up against the wall. Jerry's parents are getting packed and Jerry is happy that they won't see him much anymore. George suddenly comes in and is happy when his own parents also want to move to Del Boca Vista- so now it's the Costanzas versus the Seinfelds for the house. George visits them to ask them why they wanted to move, and
Frank
says it's for just making them mad. Frank then calls
Morty
and iritates him by telling him about Del Boca Vista and shoves it in his face. Morty has had enough and tells
Helen
that they will not move to Del Boca Vista. When Jerry hears this, he drops his glass of wine (as he celebrated the movement with George), but even worse, the Seinfelds are staying with Jerry for a little while. Meanwhile, Elaine stresses her drug test failure to a waitress at Monk's as she eats a poppy seed muffin. A nearby man tells her that he couldn't help but notice that some drugs use poppyseeds and Elaine never knew that. She rushes to Jerry's house where she finds Helen there. She asks for a urine sample of hers, which she gives. Meanwhile, Kramer and Newman buy black market shower heads, and Kramer is interested by a big one. The seller tells him it's way too dangerous and that many people use it in the circus. However, Kramer doesn't care and buys it anyway. The ending results in George helping his parents pack up, Peterman telling Elaine that she succeeded her drug test although the urine sample tells that she may be a 68-year-old woman with osteoporosis, and Kramer using his shower head, although it's so strong and pushes him back onto the floor.
Notes About Nothing
Edit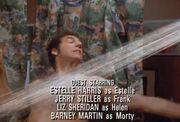 The theme of a place having absolutely no homes left to rent is continued from The Maestro. There it was the whole of Tuscany; here it's Florida housing development Del Boca Vista.
Jay Leno appears in this episode as himself.
There's a nice scene about two thirds through this episode where George's parents break the news that they intend to move to Del Boca Vista, thus away from him, and the reason is to spite the Seinfelds. Frank Costanza starts shouting in his typical manner and George joins right along with him, shouting in playful banter. It's one of the few scenes where George seems genuinely at ease in his parents' company and regardless of the reason it's still quite touching.
For this episode's quotes, see The Shower Head Quotes.