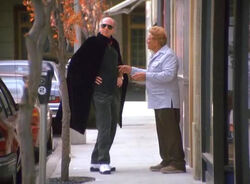 The Caped Lawyer is a minor Seinfeld character whose name is never revealed. He is a lawyer who handles Frank Costanza's divorce case. The character appears in "The Chinese Woman". The Caped Lawyer is portrayed by Seinfeld co-creator Larry David.
When asked about the cape, Frank claims that he is very independent and doesn't conform to the latest trends.
When Noreen is attempting to commit suicide by jumping off the Brooklyn Bridge, the Caped Lawyer comes to rescue her. When asked who he is, he says, "I'm Frank Costanza's lawyer!"
Appearances
Ad blocker interference detected!
Wikia is a free-to-use site that makes money from advertising. We have a modified experience for viewers using ad blockers

Wikia is not accessible if you've made further modifications. Remove the custom ad blocker rule(s) and the page will load as expected.