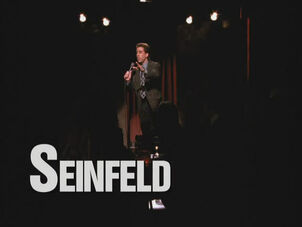 Season 1 was the very first season of Seinfeld. The Season featured only 5 episodes, very rare for a television series. The Season consisted of the pilot episode along with 4 other produced episodes. Due to the size of the season, Season 1 and Season 2 were released on DVD as a box set.
Production/Reception
Originally entitled The Seinfeld Chronicles, the pilot episode was met with poor reviews, and NBC decided not to pick up the show. Believing the series had potential, NBC executive Rick Ludwin ordered four episodes about a year after NBC's rejection. The first of these aired on May 31, 1990. When the pilot was first repeated on July 5, 1990, it received a rating of 13.9/26, which means 13.9 percent of households were tuned in at any given moment; additionally, 26 percent of all televisions in use at the time were tuned into this program. These ratings were high enough to secure a second season. NBC research showed that the show was popular with young male adults, a demographic sought after by advertisers. This gave NBC an incentive to keep broadcasting the show. "The Stake Out" was nominated for a Writer's Guild Award. TV Guide ranked it the twenty-second greatest television season of all time, being one of four of the series' entries on the list.
Cast
Cast Members in Every Episode
Other Cast Members
Episodes
DVD Releases
Region 1: November 23, 2004
Region 2: November 1, 2004
Region 4: October 18, 2004
Ad blocker interference detected!
Wikia is a free-to-use site that makes money from advertising. We have a modified experience for viewers using ad blockers

Wikia is not accessible if you've made further modifications. Remove the custom ad blocker rule(s) and the page will load as expected.