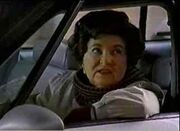 Ruth "Ruthie" Cohen (born January 28, 1930 in The Bronx, New York; died August 23, 2008) was an American character actress. Ruth had the disctinction of appearing more than any other character (other than the main four) on Seinfeld. She essentially played herself as the cashier at Monk's Cafe and essentially appeared as an extra in each episode; the character was eventually named Ruthie Cohen after her. Ruthie died of a heart attack in Panorama City, California; she was 78 years young.
Ad blocker interference detected!
Wikia is a free-to-use site that makes money from advertising. We have a modified experience for viewers using ad blockers

Wikia is not accessible if you've made further modifications. Remove the custom ad blocker rule(s) and the page will load as expected.