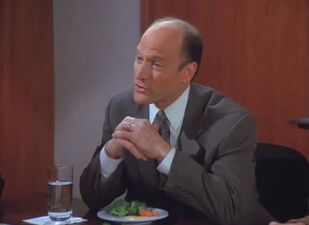 "Hey, George, the ocean called: they're running out of shrimp."
Reilly is a businessman who transfers from a job with the New York Yankees to Firestone Tires in "The Comeback" and is played by Joel Polis. Reilly gets big laughs at George Costanza's expense when he makes fun of his high consumption of shrimp during a Yankees business meeting. George tracks Reilly down in Akron, Ohio after thinking up the perfect comeback about a jerk store to Reilly's shrimp insult. Reilly makes the same joke about George's shrimp eating to a new audience, so George unleashes his jerk store comeback. George is horrified when the quick-thinking Reilly is able to use his jerk store joke against him without skipping a beat. The deflated George then takes a cheap shot at Reilly by claiming to have had sex with his wife. Reilly's boss pulls George aside and tells him that Reilly's wife is in a coma.
Ad blocker interference detected!
Wikia is a free-to-use site that makes money from advertising. We have a modified experience for viewers using ad blockers

Wikia is not accessible if you've made further modifications. Remove the custom ad blocker rule(s) and the page will load as expected.