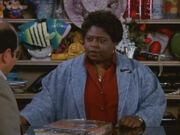 Rebecca DeMornay is a charity worker, portrayed by Sonya Eddy. Rebecca appeared twice: in Season Eight's "The Muffin Tops", complaining about the stumps left behind the homeless shelter where she works, and in Season Nine's "The Bookstore", when she threatens to beat up George Costanza if he doesn't get his tainted art book out of her thrift store.
Appearances
Ad blocker interference detected!
Wikia is a free-to-use site that makes money from advertising. We have a modified experience for viewers using ad blockers

Wikia is not accessible if you've made further modifications. Remove the custom ad blocker rule(s) and the page will load as expected.