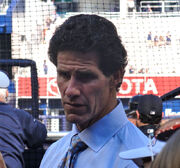 Paul O'Neill is a retired Major League Baseball player. He only appeared once, in The Wink. Paul won five World Series, four of which came with the New York Yankees. His first came when he was with the Cincinnati Reds.
Ad blocker interference detected!
Wikia is a free-to-use site that makes money from advertising. We have a modified experience for viewers using ad blockers

Wikia is not accessible if you've made further modifications. Remove the custom ad blocker rule(s) and the page will load as expected.