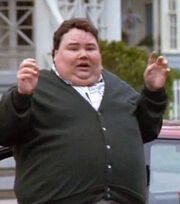 The overweight victim (played by John Pinette and credited as "Howie") is the man who was robbed in Latham, Massachusetts in "The Finale, Part 1".
Jerry, George, Elaine, and Kramer just watched and laugh at him, filming the whole ordeal. Afterwards the four are arrested by Officer Vogel under the "Good Samaritan" law, and thrown into a Massachusetts jail to await trial.
In "The Finale, Part 2," Howie was the second person to testify where he told District Attorney Hoyt that they did nothing to help him.
Ad blocker interference detected!
Wikia is a free-to-use site that makes money from advertising. We have a modified experience for viewers using ad blockers

Wikia is not accessible if you've made further modifications. Remove the custom ad blocker rule(s) and the page will load as expected.