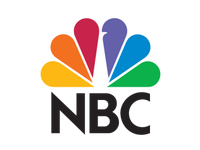 NBC
(
National Broadcasting Company
) is the television network that originally aired
Seinfeld
. NBC has been around for decades, but it became popular during the 1990s. This is when they had "must-see TV", including
Seinfeld
and
Friends
.
Fictional Story
During the fourth season of Seinfeld, the network was interested in giving Jerry a series. After a long negotiation, the television pilot Jerry aired. However, it was cancelled after the first episode. Later, NBC was interested in making a pilot for Kenny Bania. In "The Finale", NBC ordered a full season of Jerry, but when the four friends went to jail, the series never came to be.
Fictional Susan Ross worked for and was fired by NBC.
Trivia
NBC cancelling Jerry is a reference to how the real NBC nearly cancelled Seinfeld after the pilot, The Seinfeld Chronicles.
Ad blocker interference detected!
Wikia is a free-to-use site that makes money from advertising. We have a modified experience for viewers using ad blockers

Wikia is not accessible if you've made further modifications. Remove the custom ad blocker rule(s) and the page will load as expected.