In the episode "
The Bubble Boy
", George claims "The Moops" is the answer to the Trivial Pursuit question "Who invaded Spain in the 8th century?" The Bubble Boy contested the answer, claiming it was the Moors (which is correct). George, with his stubborn nature, in reaction to the belligerent arrogance of the Bubble Boy, and out of spite, refused to accept the response in favor of the (presumably misprinted) answer given by the card. This incident is based on an actual error spotted by one of the writers while playing the home edition of
Jeopardy!
, although there is no recollection of that misprint found on any edition of
Trivial Pursuit
.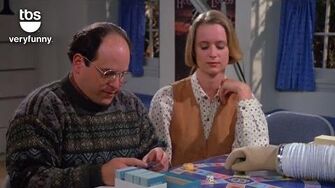 Ad blocker interference detected!
Wikia is a free-to-use site that makes money from advertising. We have a modified experience for viewers using ad blockers

Wikia is not accessible if you've made further modifications. Remove the custom ad blocker rule(s) and the page will load as expected.