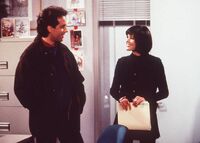 Lois is a woman whom Jerry Seinfeld dated in "The Race". Her boss, Duncan Meyer, is an old high school rival of Jerry's. Seeing that her name is in fact "Lois", Jerry can't help himself but make numerous Superman references while he is with her; it's obvious that Jerry had always wanted to be with a woman named Lois.
Lois was portrayed by Renee Props and she made her only appearance in "The Race".
Jerry loves saying her name: "Lois". 
Ad blocker interference detected!
Wikia is a free-to-use site that makes money from advertising. We have a modified experience for viewers using ad blockers

Wikia is not accessible if you've made further modifications. Remove the custom ad blocker rule(s) and the page will load as expected.