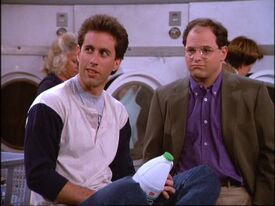 In many episodes, the laundromat was visited.
Equipment
4 washers
4 dryers
1 detergent vending machine
1 large table for folding clothes
1 wheeled laundry cart
1 trash can
Signs
"Not responsible for lost or stolen items"
"No Dyeing or tinting in washers"
"Do not leave machines unattended"
Quotes
"Jerry, I have to tell you something. This is the dullest moment I've ever experienced." - George
"You can't overdry. Same reason you can't overWET!" - Jerry
Appearances
Ad blocker interference detected!
Wikia is a free-to-use site that makes money from advertising. We have a modified experience for viewers using ad blockers

Wikia is not accessible if you've made further modifications. Remove the custom ad blocker rule(s) and the page will load as expected.