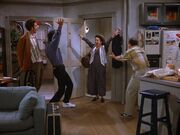 Jerry's apartment (129 West 81st Street, Apartment 5A) is where Jerry Seinfeld lives and is located in New York City. His apartment is usually a meeting ground for him and his friends George and Elaine. His next door neighbor, Kramer, also visits whenever he feels like it. This is one of the two main hubs, the other being Monk's Cafe. Early episodes show apartment 411 as well.
See also Jerry's Apartment's Lobby and Jerry's Apartment's Elevator.
Areas
Kitchen - There is a kitchen in the apartment with a counter that wraps around. It is open to the rest of the living room.
Living room - The living room has couches and a TV. The apartment door opens directly to the living room.
Dining area - There is a small dining area behind the couch.
Alcove - By the window, there is an alcove that Jerry uses as an office. He keeps his computer, desk, and bookshelf there.
Bathroom - Behind the dining area is Jerry's bathroom.
Bedroom - Turning left before the bathroom is Jerry's bedroom.
Changes
Jerry's apartment underwent many changes throughout the series.
Notes About Nothing
The apartment number has been accidentally changed in some episodes. In "Male Unbonding", the apartment was #411.
In "The Phone Message", Jerry lived in Apartment 3A.
Ad blocker interference detected!
Wikia is a free-to-use site that makes money from advertising. We have a modified experience for viewers using ad blockers

Wikia is not accessible if you've made further modifications. Remove the custom ad blocker rule(s) and the page will load as expected.