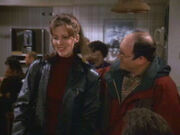 Janet is one of George Costanza's girlfriends. She only appeared once, in "The Cartoon". She was described by both Elaine and Kramer as looking very similar to Jerry. She was portrayed by Tracy Nelson, daughter of rock & roll icon Rick Nelson, who had the first #1 hit on the Billboard Hot 100: "Poor Little Fool."
Ad blocker interference detected!
Wikia is a free-to-use site that makes money from advertising. We have a modified experience for viewers using ad blockers

Wikia is not accessible if you've made further modifications. Remove the custom ad blocker rule(s) and the page will load as expected.