Jack
Aliases
The Wiz
Gender
Male
First Appearance
"The Junk Mail"
Occupation
Fact Checker for New York Magazine
Former Occupations
The Wiz mascot and spokesman
Portrayed By
Toby Huss
[Source]
Jack is Elaine's boyfriend in the episode "The Junk Mail".
Character Biography
Elaine encounters Jack in Monk's Cafe, where she falls in love with him instantly. Jerry notices an old television advertisement in which Jack was the spokesman ("The Wiz"). Elaine and Jack have an on-again-off-again relationship throughout the episode, she ultimately breaks up with him when she learns that he has reclaimed his role as The Wiz.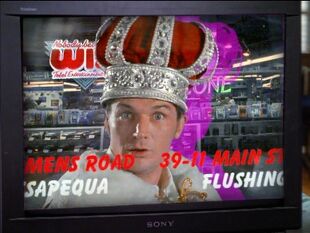 Episode Appearances
Ad blocker interference detected!
Wikia is a free-to-use site that makes money from advertising. We have a modified experience for viewers using ad blockers

Wikia is not accessible if you've made further modifications. Remove the custom ad blocker rule(s) and the page will load as expected.