Jack
Aliases
The Wiz
Gender
Male
First Appearance
"The Junk Mail"
Occupation
Fact Checker for New York Magazine
Former Occupations
The Wiz mascot and spokesman
Portrayed By
Toby Huss
[Source]
Jack is Elaine's boyfriend in the episode "The Junk Mail".
Character Biography
Edit
Elaine encounters Jack in Monk's Cafe, where she falls in love with him instantly. She is oddly obsessed with him for no common reason. Jerry notices an old advertisement for the store The Wiz, where Jack was the spokesman (aptly dubbed "The Wiz"). Elaine proceeds to break up (and then get together) with him again until she discovers he is The Wiz again.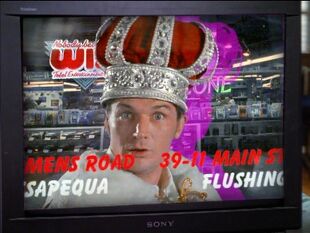 Episode Appearances
Edit