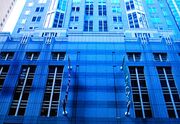 The J. Peterman Catalog is catalog company on Seinfeld.
History
The J. Peterman Catalog is the company where Elaine Benes worked from Season Six to the show's end. During part of this time, she works as the president of the company. The J. Peterman Catalog is a central plot point in many episodes after Season Six.
Known workers
Ad blocker interference detected!
Wikia is a free-to-use site that makes money from advertising. We have a modified experience for viewers using ad blockers

Wikia is not accessible if you've made further modifications. Remove the custom ad blocker rule(s) and the page will load as expected.