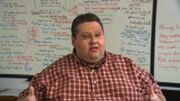 David Mandel is a writer on the Seinfeld crew. He worked with Peter Mehlman on "The Betrayal". (On the DVD, David and Peter do commentary for The Betrayal. David also does a brief introduction of The Betrayal when the viewer selects the feature that allows the episode to be viewed in normal chronology.) He appeared as himself in "The Summer of George", and he even makes a voice cameo in "The Butter Shave". When Jerry asks what the deal is with cancer, David responds, "I HAVE cancer!"
Ad blocker interference detected!
Wikia is a free-to-use site that makes money from advertising. We have a modified experience for viewers using ad blockers

Wikia is not accessible if you've made further modifications. Remove the custom ad blocker rule(s) and the page will load as expected.