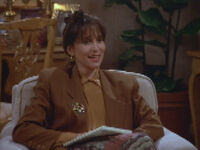 Dana Foley is a therapist and friend of Elaine's, portrayed by Gina Hecht.
She is first mentioned in "The Pick ", where Jerry reccomends that George should go see her to discuss his recent break-up with Susan Ross .
Ad blocker interference detected!
Wikia is a free-to-use site that makes money from advertising. We have a modified experience for viewers using ad blockers

Wikia is not accessible if you've made further modifications. Remove the custom ad blocker rule(s) and the page will load as expected.