Ad blocker interference detected!
Wikia is a free-to-use site that makes money from advertising. We have a modified experience for viewers using ad blockers

Wikia is not accessible if you've made further modifications. Remove the custom ad blocker rule(s) and the page will load as expected.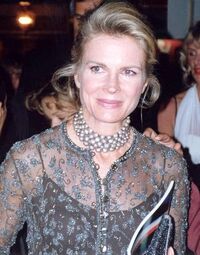 Candice Patricia Bergen
(born May 9, 1946, in Beverly Hills, CA) is an American actress and comedienne, best known for
Murphy Brown
. She only appeared once, in "
The Keys
", in which she portrayed her famous title role and
Kramer
portrayed Steven Snell. She is the daughter of famous actor, comedian and ventriloquist Edgar Bergen.