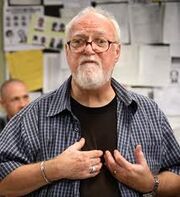 Art Wolff is an American television director, producer and acting coach who directed the pilot episode of Seinfeld, "The Seinfeld Chronicles". Art has also directed other television programs such as The Tracy Ullman Show, It's Garry Shandling's Show, The Powers That Be, Dream On along with many others.
Recently, Wolff has been teaching courses at New York University's Tisch School of Arts and the Actors Studio; he also runs an Acting Studio in Hollywood.
As an acting coach Art Wolff has worked with a number of actors such as Dakota Fanning, Sean Penn, Jennifer Love Hewitt, Matthew Perry, Steve Martin, Michael McKean along with many other prestigious actors.
Ad blocker interference detected!
Wikia is a free-to-use site that makes money from advertising. We have a modified experience for viewers using ad blockers

Wikia is not accessible if you've made further modifications. Remove the custom ad blocker rule(s) and the page will load as expected.