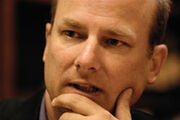 Andy Ackerman is an American director and producer; he is a member of the Seinfeld crew. Andy was primarily the director of the show after Tom Cherones left. He directed every episode from Season Six until the final episode, with the exception of "The Comeback" in Season Eight, which was directed by David Owen Trainor. He would later collaborate with Larry David and Julia Louis-Dreyfus again when he directed Curb Your Enthusiasm and The New Adventures of Old Christine, respectively; he would go on to direct every episode of The New Adventures of Old Christine, where he worked with fellow Seinfeld colleague Jennifer Crittenden. Prior to Seinfeld, Andy worked with Gordon Jump on WKRP in Cincinnati, winning an Emmy Award for Videotape Editing in its third season.
Ad blocker interference detected!
Wikia is a free-to-use site that makes money from advertising. We have a modified experience for viewers using ad blockers

Wikia is not accessible if you've made further modifications. Remove the custom ad blocker rule(s) and the page will load as expected.